Managed WiFi: The New Internet Standard In Multifamily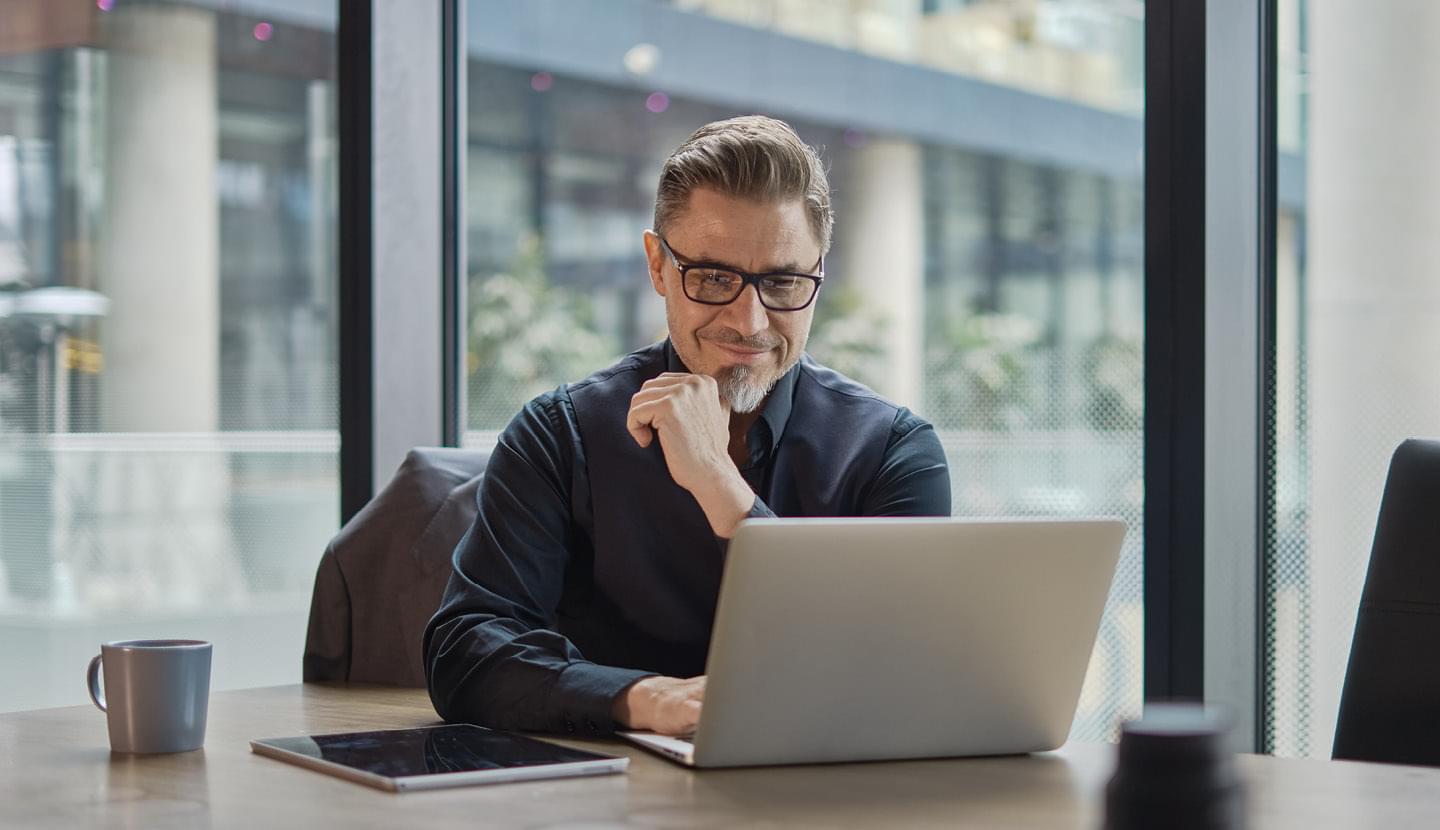 Reliable, high-performance internet connectivity in multifamily communities today is not just an expectation, it's an absolute necessity. NAA's annual survey of renter households from 2021 that ranked desirable amenities shows reliable internet at all-time high. In a recent poll conducted by Consumer Reports, more than 80% of participants feel internet is as important as water and electricity! It's clear that Wi-Fi has become an essential utility.
As our society relies more heavily on the internet, multifamily developers and internet service providers (ISPs) have been taking a hard look at the traditional, bring-your-own-internet (BYOI) method of delivering WiFi to multifamily residents. This reassessment has laid bare an undeniable truth: BYOI is no longer the best way to provide internet. These realizations have led to the rise of a new industry standard for multifamily internet: Managed WiFi.
Managed WiFi offers tremendous benefits to residents and owners alike. Residents get superior experience - super fast internet ready on move-in day and available throughout the property - and owners make more money - typically around $30 per unit per month in incremental NOI. Already in 2022, nearly 80% of new construction projects are implementing it. It's no wonder: if you can make your residents' lives better and make more money in the process, going with Managed WiFi is a no brainer.
Below, we discuss in detail both the value that Managed WiFi brings and the drawbacks of current connectivity models.
Existing Resident Internet Experience Is Suboptimal

For years, the majority of multifamily properties have implemented what some in the industry call the BYOI method. If you've lived in an apartment building or been in the industry at any point since the beginning of residential internet, you're almost certainly familiar with this process. Residents have to ask or research who the ISPs are for the building. They then call or go online to get it set up. Installation is scheduled for a later date and equipment is shipped. An additional contract with the third-party ISP has to be signed. In most cases, the internet is not available on day one, it is only available inside the unit, and the fees residents pay are high because the approach doesn't leverage community scale. It's what people are used to, but it can be better.

Times Have Changed

In addition to some of the fundamental limitations of the legacy approach, the internet landscape has been changing on both the supply and demand side. Consider the following realities:
More people are working from home than ever before, raising the expectation to have superb and reliable internet.

The number of connected devices that the average person owns has been on a steady incline for years. In 2020, the average per household was 10. If trends continue, that number is expected to increase to 20 by the year 2025! Smartphones, tablets, PCs, gaming consoles, e-readers, smartwatches, smart TVs. Even kitchen appliances are joining the ranks. This means high bandwidth isn't just expected, it's necessary.

WiFi today isn't like TV or cellular providers where people prefer customized choices, like brands and customized features. Residents just want their internet to work and they want it to work now. Again: it's like water and electricity, in most people's eyes.

The FCC recently ruled against large ISP operators entering into agreements with apartment owners that allow the telecommunications carrier to own the wiring and lease it back.

The FCC also put restrictions on the old revenue sharing models used by large cable companies. The economic models of old are being re-built.
The technological and regulatory landscape has gone through a complete overhaul in the last twenty years. With WiFi essentially becoming the fourth utility, there is a tremendous opportunity to rethink the approach.

The Benefits Of Managed WiFi

The new internet standard in multifamily is Managed WiFi. Let's lay out how it makes sense for both renters and owners.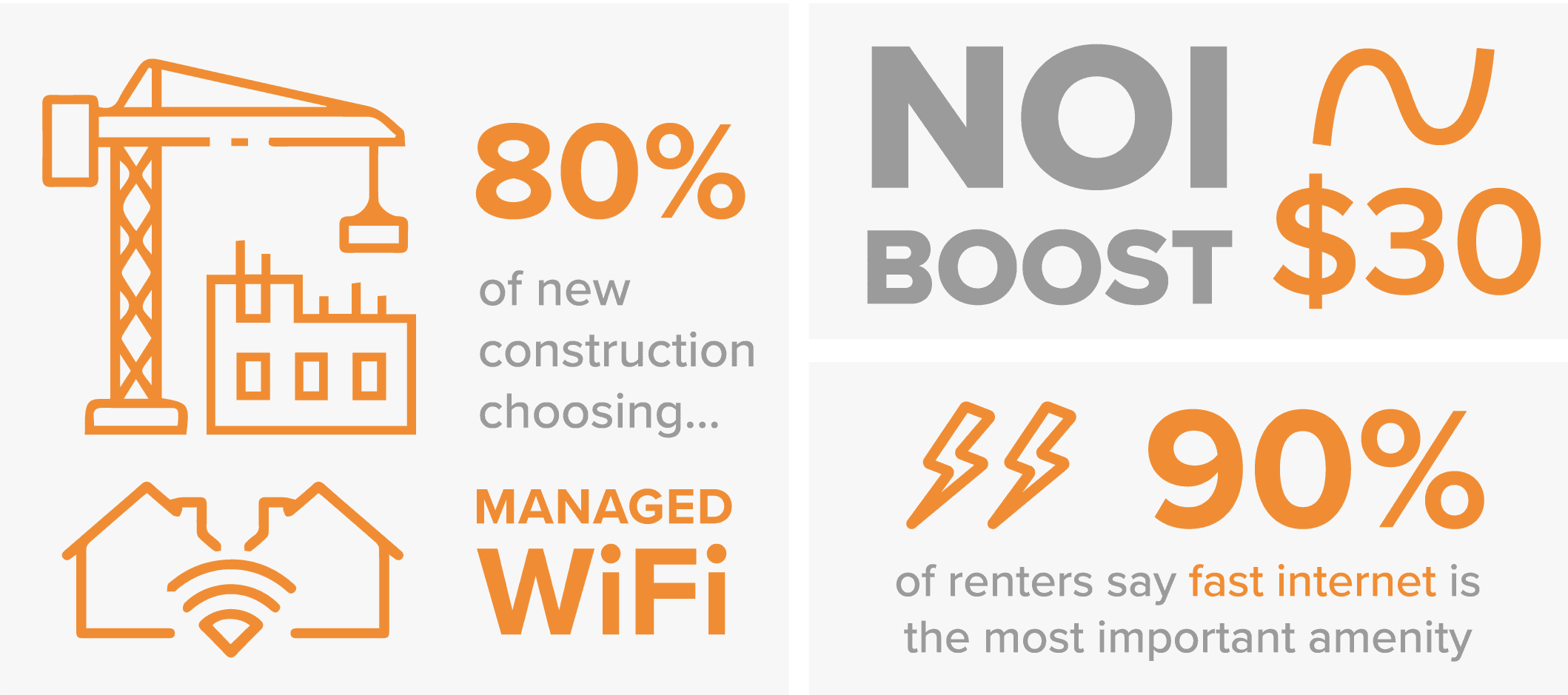 How Managed WiFi Meets The Needs Of Renters Today
WiFi is ready to go in each unit before move-in. This alone is a huge benefit over the BYOI approach. No more researching providers, long sign ups, and scheduling out a technician - only the peace of mind that right when you move in, your internet is already up and running.

Reliable property-wide access. Gone are the days of exclusive WiFi access points for every individual apartment. The service provider plans and deploys all access points (often during the building's development). This optimizes property-wide coverage and reduces interference, no matter where the resident is on the property. No more dead spots.

Number of devices doesn't matter. Today, streaming via multiple devices in-unit is the status quo, with the average resident owning 10 connected devices! Before managed WiFi, residents would experience bandwidth overload in their apartment if too many devices were connected to their network, slowing their speeds down. No longer. Because this solution provides comprehensive internet access points across the whole property, bandwidth isn't limited to the pipe in a single unit. No more telling your guests to disconnect from the WiFi when Netflix needs to buffer.

Only login once. Though residents still set their own access logins, owners can set community WiFi permissions to keep resident's personal devices connected anywhere on the property without losing signal. No more reconnecting at the pool, gym, or anywhere else inside the community.
How Managed WiFi Gives Owners Everything They Want

Earn more revenue. A margin increase on WiFi packages provides a huge ancillary revenue opportunity. With Managed WiFi, owners establish what the resident pays for the service (or builds it into the rent), earning a greater share of the revenue and avoiding new operating expenses. There is much more flexibility for the owner to manage the amenity business as they see fit.

Simplifies the move-in/move-out process. Renters simply opt-in to the internet service during the leasing process or anytime during their lease. Staff no longer have to field questions about internet with every prospective resident. When a resident moves out, there's no transferring or canceling of internet service, because it's always there.

More new leases. Resident surveys indicate that 90% of prospective residents say high-speed internet is the most important amenity when choosing an apartment. When you can assuage all of their internet concerns with managed WiFi, prospective residents are more likely to sign.

More renewals. Because Managed WiFi lays to rest the multitude of problems that residents commonly associate with apartment-complex internet, the property's renewals increase. When residents are happy, they renew more often.

Command premium rents. A superior internet option at your property gives you more than reasonable grounds to charge higher rent premiums.

Set the stage for smart tech. A reliable WiFi infrastructure lays the foundation for the implementation of a smart technology platform, which is yet another highly valuable service for both residents and owners. With managed WiFi, it's that much easier to manage all the connected devices across your community. Owners can add even more convenience and reliability by getting both services from the same provider, creating only one point of service.
Managed WiFi Is The New Standard for Multifamily Communities

Managed WiFi helps owners make more money and better serve their residents. It empowers them to provide a better Smart Community experience that will increase asset competitiveness and retention, simplify the resident experience, increase NOI, help the property stand out, and make implementing smart technology platforms even easier. The time has come: the new internet standard is here.


Whether you're working, living, or just visiting,
Experience
life at every level.